Stories From the Field
AHRQ-listed Patient Safety Organizations (PSOs) operating across the United States play an important role in improving the quality and safety of care. Achieving better and safer care for patients is no small feat. Staff must collect data, identify quality and safety problems, design and implement improvement processes, measure change, provide feedback, and continue to support improved care practices. However, clinicians often fear that identification of safety problems will be used against them.
That's where PSOs can help. PSOs have experts who can collect, analyze, and aggregate clinical data at the local, regional, and national level to develop insights into the underlying causes of patient safety events that might not be obvious when simply looking at one or a few facilities. PSOs typically work with many providers. The feedback and recommendations from PSOs to providers carry Federal protection from legal disclosure, which fosters more extensive reporting and examination of safety data and improvements in patient care.
These PSO stories from the field illustrate how the sharing and use of protected data from PSOs can dramatically improve patient safety and care in many health care settings.
American Data Network PSO: Catching Near Misses With a Statewide Good Catch Campaign
Near misses occur 3 to 300 more times than adverse events, but are often under-reported. The American Data Network PSO in Arkansas estimated that every clinical staff is aware of or involved in at least 3 near misses each year. "If adverse events are preceded by near misses, then identifying near misses can prevent adverse events," says Stephanie Lorio, a nurse and Director of Products and Services for the PSO.
The PSO data revealed that of 2016 events reported, 81.8 percent were incidents, 6.8 percent were near misses, and 11.5 percent were unsafe conditions. Yet, 53.5 percent of incidents, near misses, and unsafe conditions it reviewed in 2016 could have been prevented.
The PSO launched a Good Catch Campaign in 2017 with acute care hospitals in Arkansas and gained endorsement from key State associations, such as the Arkansas Hospital Association and Arkansas Health Executive Forum. It got 45 hospitals to voluntarily participate, which represented 57 percent of Arkansas acute care beds.
The Good Catch Campaign goals were to recognize, report, and reward. Its slogans were: "The more we report, the more we learn," and "A near miss caught today could prevent an occurrence tomorrow." The hospitals received a Good Catch Program Toolkit that included slides, posters, infographics, a campaign blueprint, and checklist. The PSO established an awards program to keep staff and physicians engaged.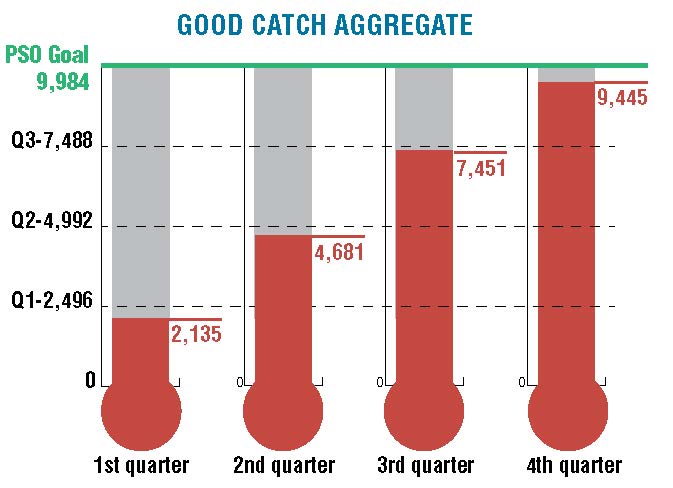 The result of the statewide campaign was a 47% increase in good catches of near misses in 2017, an average of 246 more near misses reported per month in Arkansas than in the previous year for a total of 9,445 near misses reported by the fourth quarter of 2017.
Teams acted in a timely manner on issues revealed through near miss analytics. For example, successful data-driven improvement strategies in one facility included:
Instances of hypercoagulation fell to zero after implementing a HARD STOP policy requiring a baseline INR on all patients prior to receiving a Coumadin dose.
Errors associated with inconsistent practices in drawing Vancomycin troughs were eliminated by providing pharmacy-led education to nursing and laboratory staff.
After discovering an electronic health record issue, which made it easy to overlook respiratory therapy orders, the Patient Safety Committee teamed with the information technology department to program an auto notification alerting respiratory therapy staff of new orders.
In addition, the campaign increased collaboration with endorsing groups, generated new interest in working with the PSO by non-PSO member participants, and enhanced rapport with key Arkansas patient safety professionals.
Opioid Stewardship: The NC Quality Center PSO Spurs Development and Use of Evidence-based Prescribing Practices for Opioids
Rate of Prescription-Related Opioid Overdose Deaths and Rate of Outpatient Opioid Prescriptions Dispensed. NC Residents, 2011–2015.
The Quality Center Patient Safety Organization (PSO*) in North Carolina engaged in an opioid stewardship effort by working with several partners, including the State hospital association, the State College of Emergency Room Physicians, community physicians, and its own 96 PSO members to assist the professional training and coordination arm of the State's action plan to reduce overprescribing and dispensing of opioids.
The PSO gathered information on emergency department pain management and prescribing practices. It also began monthly meetings with hospital pharmacists, physicians, pain management specialists, anesthesiologists, and nurses on the processes and challenges of emergency pain management. The PSO also conducted "safe tables" specific to opioids. Safe tables provide a confidential space in which health care professionals in the protected PSO milieu can freely discuss patient safety events, and review system and process issues under the confidentiality protections of the Patient Safety Act. Professionals talk about things they tried, and lessons learned. These discussions revealed prescribing problems and barriers to proper prescribing.
The safe table discussions also uncovered previously unidentified opioid-related medication adverse events. For example, some of the medication adverse events had to do with failure to rescue respiratory depression patients who were prescribed both an opioid and benzodiazepine. Discussions also revealed that opioid-naïve women were prescribed large doses of opioid medications following C-sections.
"Forget achieving a smiley face score of zero when you are talking about pain management," says Nancy Schanz, former PSO director and a patient safety specialist. "We need to educate nursing staff to manage pain so the patient rates the pain at a 3 or 4, not a zero. That's because we don't want patients to be constipated, or too groggy to walk down the hall, not to get exercise they need, or to get addicted to opioids. Day 7 of opioid use increases the chance of addiction by 13 percent. Besides, we're finding that often times acetaminophen or acetaminophen combination drugs work better than opioids for most patients, depending on the diagnosis."
One product of the PSO's information gathering effort is the North Carolina Guidelines for Pain Management in the Emergency Department, a 13-point guide to best practices to reduce opioid overprescribing through opioid prescription limitations, use of non-opioid medications, and consulting the NC Controlled Substances Reporting System (CSRS). CSRS is a process to screen for substance abuse that includes referrals for suspected and at-risk patients, coordination and communication with opioid providers and others, and patient/family education on proper use, storage and disposal of opioids. Hospitals and emergency departments were charged with reviewing this guide and creating hospital and departmental policies that improve pain management while decreasing the use of opioids. The ED guidelines balance the duty to treat pain with the duty to reduce the risk of opioid dependence, addiction, and diversion in the emergency medicine population through use of best practices. Metrics were established to measure progress against baseline toward 2021 goals. Results will be monitored and reported quarterly. The program is currently collecting data.
AHRQ is preparing to catalog the opioid works from 82 AHRQ-listed PSOs to determine how to propagate and accelerate the work of PSOs and the health care institutions and systems with which they work.
*Patient Safety Organizations were created under the Patient Safety and Quality Improvement Act of 2005, 42 USC 299b-21–b-26 (Patient Safety Act). The Patient Safety Act and its implementing regulations under the Patient Safety and Quality Improvement Final Rule (42 CFR Part 3) provide for Federal confidentiality and privilege protections to health care providers working with a PSO. AHRQ is responsible for implementation.
Academic Medical Center PSO: Mitigating the Risks of Electronic Health Record Down Time
At least one unplanned downtime of electronic health record (EHR) systems affected 96 percent of 59 health care systems surveyed by the Academic Medical Center PSO. Seventy percent of these downtimes lasted more than 8 hours and 3 institutions reported one or more patients injured in downtime. About 70 to 85 percent of institutions had implemented practices to prepare for or deal with a downtime event, but few were followed completely. Most institutions had only partially implemented comprehensive contingency plans for unplanned downtimes.
When systems are down, clinicians don't know the last time medicines were administered and cannot communicate internally and externally. What's more, particularly vulnerable are pharmacy, labs, the blood bank, radiology and imaging, infant security, patient access and identification, and oncology/critical care/transplant/nutrition services. "It becomes chaos, unless you have a plan, such as putting paper-based documentation strategies and logistics in place," notes Katherine Zigmont, clinical liaison nurse for the PSO.
"One hundred percent reliable systems do not exist," she adds. "Downtimes are costly and inevitable. One minute of unavailable down time causes 4 to 5 minutes of staff time to re-enter data and $264 per minute for a 500-bed hospital."
The AMC PSO facilitated over 350 hours of stakeholder engagement in nine "safe" tables to develop a framework to discuss the issue and potential solutions. The framework was organized by risk.
A total of 174 professionals from 17 PSO member institutions attended, including doctors and nurses, staff from pharmacy and laboratory, risk managers, emergency management/emergency preparedness leaders, etc. "Many hospitals don't have any plans for EHR downtime," says Dr. Ashley Yeats, associate medical director for the PSO. "We had doctors committed for 18 months. They all help us mitigate harm."
The result of the PSO's research and discussions is a guide, Patient Safety Guidance for Electronic Health Record Downtime. The guide addresses issues such as downtime alerts and notifications, activating a command center and operations, communication and messaging strategies, and planning for recovery and deactivation. The guide is a playbook drill the PSO disseminated widely to influence the regional standard of care.
Survey of 59 Healthcare Systems:
96% of institutions reported at least one unplanned downtime

70% had at least one planned downtime > 8 hours

Three institutions reported one or more patients were injured as a result of a downtime
70-85% had implemented practices to prepare/deal with a downtime event but few were followed
Most institutions had only partially implemented comprehensive contingency plans for unplanned downtimes*
*Sittig DF, Gonzalez D, Singh H. Contingency planning for electronic health record-based care continuity: A survey of recommended practices, International Journal of Medical Informatics, July 2014. Referenced from https://www.researchgate.net/publication/264546263.
100% reliable systems do not exist
Downtime is inevitable and costly
The study showed:

For every minute of downtime, the average hospital spends 1.4 minutes to perform required tasks without automation
One minute of unavailable system time=4.5 minutes of staff time to re-enter the data once the system was operating

Costs of downtime:

$264/min for a 500-bed hospital
$1000/min for a three-hospital integrated delivery network (IDN) with 1,400 beds

Over one year, each 1 percent of downtime can translate into an additional $1.4 million in operating costs for a 500 bed hospital and as much as $10 million for the IDN*
*Anderson, M.: The toll of downtime. Healthcare Informatics 2002. 19:4
Vizient PSO: Tracking Adverse Events With Direct Oral Anticoagulants
Clinical trials show that oral anticoagulants have high injury rates, causing bleeding in 8 percent to 19 percent of patients treated for a year.1 Anticoagulants are used by a large and growing population, notably the elderly. Vizient PSO used PSO data to examine adverse events, such as intracranial hemorrhage or gastrointestinal bleeding, due to direct oral anticoagulants (DOACs), which led to suggested ways to improve practice to reduce patient harm.
Vizient PSO retrospectively reviewed 273 PSO reports that showed that 72 percent of all DOAC events reported reached patients, and 36 percent of these events resulted in harm, ranging from emotional distress to death. They searched in the aggregate PSO database for the drugs rivaroxaban, apixaban, dabigatran, and edoxaban.
Figure 1: Harm Scores Assigned in DOAC Events
Problems ranged from known drug interactions, wrong dose and wrong time, to overdose or extra dose. Another contributing factor was lack of provider recognition of these drugs as an anticoagulant. Inadequate and perioperative care coordination resulted in delayed procedures, cancellation of procedures, or when not recognized preoperatively, was associated with intra-and post-operative bleeding. Patients received an overdose or extra dose of anticoagulation in nearly 60 percent of DOAC medication wrong dose events.
DOAC high-harm events were associated with acute bleeding: gastrointestinal bleeding, epistaxis, hematomas, and intracranial hemorrhage. Common contributing factors to these high-harm events were: therapeutic duplication (35%), inappropriate dose for clinical condition (35%) and breakdown in discharge instructions and lack of patient teach back (10%).
Figure 2: DOAC Wrong Dose Events
"Examination of the PSO data and discussions during safe tables led to recommendations such as improving transitions of care (e.g., medication reconciliation), selection of the best drug for a patient given their age, indication, other medications, effective patient and family education, and development of anticoagulant reversal strategies," says Jessica Schoenthal, a nurse and collaborative advisor for the Vizient PSO.
Based on PSO data and safe table discussions, the PSO suggests ways to improve DOAC management of patients discharged from acute care such as implementing a discharge checklist or timeout for patients prescribed DOAC therapy, schedule a follow-up appointment with an anticoagulation clinic or with a provider who can monitor therapy, and call all DOAC patients within 24 to 48 hours of discharge.
Vizient PSO published two DOAC safety alerts on discharge care and peri-procedural care, which can be found on the Vizient PSO website.
In a comparison report on DOACs at the April 2018 Tenth Annual PSO Meeting, the Pennsylvania Patient Safety Authority, a non-PSO independent State agency, reported that the number of adverse events involving DOACs has been increasing yearly. It found that the greatest proportion of preventable events with DOACs were due to duplicate therapy (54.4%), wrong dose (24.6%), improper bridging (8.8%), restarting the medication too soon (7%), drug-to-drug interaction (3.5%), and too long duration of the medication (1.8%).
1. https://www.ismp.org/resources/quarterwatchtm-2016-annual-report-part-ii-oral-anticoagulants-nations-top-risk-acute?id=1172
Center for Patient Safety PSO: Using Adverse Event Data To Identify the Most Common Emergency Medical Services-Related Problems and Their Causes
Emergency medical services (EMS) play a critical role in the Nation's health care delivery system and provide emergency medical care in often challenging environments. The Center for Patient Safety (CPS), a Patient Safety Organization (PSO), P0011, focuses on learning what medical errors occur during EMS care, why they occur, and how to prevent patient harm.
In 2009, the CPS, an independent, non-profit organization, initiated PSO services with EMS providers primarily in the State of Missouri. EMS leaders wanted to improve patient safety under the Patient Safety Act protections for their quality improvement efforts by using PSO data on adverse events. Data available have increased along with the growing EMS PSO network. These data identify adverse events and their causes, which are summarized in the infographics and paragraphs below.
Growing EMS Network
Due to a growing awareness about PSO services available to EMS providers, CPS contracts have steadily increased since 2010. In 2016, CPS contracted with 112 EMS providers serving 261 EMS locations across the State of Missouri. CPS PSO's focus on EMS has grown beyond the borders of Missouri and now includes ground and air medical services in multiple States.
Identifying EMS Adverse Events and Their Causes
The CPS PSO collected EMS event data, including adverse events, near misses, and unsafe conditions. The EMS event data revealed several trends resulting in CPS issuing safety watches and alerts ranging from complications with airway management (endotracheal intubation) and device-related events (stretcher collapsing, rolling out of control, and nonoperational power function) to medication errors (incorrect medication or route). Twenty percent of stretcher events were associated with bariatric patients and 36 percent of medication events were associated with opioids.
Overall, the PSO documented an increase from 3 adverse events in 2011 to 1,711 adverse events in 2016. Inattention and poor communication between staff/team members were the top contributing factors to adverse events.
PSO initiative and dedicated staff, EMS providers are submitting greater numbers of adverse events each year, growing from nearly 200 in 2014 to more than 900 in 2016.
Society for Vascular Surgery: Using Surgical Data To Reduce Hospital Stays and Surgical Site Infections and Improve Survival
The Society for Vascular Surgery (SVS) Patient Safety Organization (PSO), (P0106) improves patient safety and the quality of health care delivery by providing Web-based collection, aggregation, and analysis of clinical data submitted in registry format for all patients undergoing specific vascular treatments by hospitals participating in the PSO. These data revealed decreased length of hospital stays (LOS) and fewer surgical site infections among surgeons at the Vascular Quality Initiative (VQI) Centers, as well as improved survival among patients on antiplatelet and statin medicines. Sharing actions taken in a PSO-protected learning group on challenging areas can clearly improve vascular care.
By aggregating and analyzing data from the vascular surgeons in their registries across the country, the SVS PSO found that elective carotid endarterectomy (CEA) and endovascular aneurysm repair (EVAR) were associated with significantly decreased post-operative LOS from 2011 to 2017.
Decreased Hospital Stays
Mean post-operative LOS for elective EVAR for all SVS centers plunged from 2.75 days in 2010 to 1.8 days in 2017.
Mean post-operative LOS for elective CEA for all SVS centers plunged from 2.12 days in 2011 to 1.75 days in 2017.
Fewer Surgical Site Infections
Also, use of chlorhexidine to prepare the skin of surgical site incisions significantly reduced post-operative surgical site infections (SSIs).
Improved Survival
For every 25 patients discharged on an antiplatelet agent and a statin medication, an additional 3.5 were alive at 5 years.
ECRI Institute PSO: Using Protected Data To Reduce Falls
Christiana Care Health System, working with the ECRI Institute PSO, piloted a Lean Six Sigma process to form an interdisciplinary team that would reduce the average patient falls rate below the national benchmark. The unique, protected PSO environment facilitated trend analysis, root cause identification, and action plan development. Early and active engagement from leaders and frontline staff helped achieve:
A 52% reduction in the combined rate on the three pilot units, far exceeding their goal of a 30% reduction.
A reduction in the average falls rate across 3 patient care units from 4.8 falls per 1000 patient days in 2012 to 1.8 falls per 1000 patient days in 2015.
A reduction in the annual cost of falls by $20,000.
There were statistically significant differences in success of strategies between units involved in the Lean Six Sigma strategies and those units not involved.
HCA PSO: Using Shared Best Practices To Reduce HACs and HAIs
The HCA PSO recruited 152 hospital facilities in Tennessee to participate in the Clinical Safety Improvement Program, with a goal of reducing hospital-acquired conditions (HACs) or healthcare-associated infections (HAIs) by 10%.
All facilities met the target of reduction in at least one event category and 85% of the facilities exceeded expectations by achieving reduction in 3 or more categories. Staff freely shared lessons learned and best practices across member facilities in 20 States—attributable to the privilege and confidentiality protections unique to a PSO program—to improve quality and safety and reduce harm.
Learn more about the impact of AHRQ tools in this facility.
Carolinas Rehabilitation PSO: Using Protected Data To Reduce Safety Problems
This PSO created the EQUADRSM network for quality improvement in rehabilitation facilities. Members share quarterly data on quality measures, best practices, and challenges. PSO attributes include a protected, safe, and non-punitive environment to share safety data. The result was a steady decline from 2010 to 2015 in the following quality indicators:
Unassisted falls declined 18.6%
Restraint use fell 40.6%
Pressure ulcers dropped 30.9%
Venous thromboembolism fell 25.9%
MRSA (Methicillin-resistant Staphylococcus aureus) declined 68.3%
Learn more about the impact of AHRQ tools in this facility.